Less than ideal weather conditions won't completely put the damper on this bass fishing weekend on Lake St Clair. Since we collected the information that I'll show you below from last weekend, air temperatures have risen to the point where bass are coming in toward shore.
Marine forecast for this weekend:
Saturday NNW wind 12 to 14 kt. Cloudy. Waves around 2 ft.
Saturday Night NNW wind 8 to 12 kt. Partly cloudy. Waves 1 to 2 ft.
Sunday NNW wind 9 to 11 kt. Sunny. Waves around 1 ft.
None of this is ideal, but there are big zones in the Lake that will remain protected. Good bass fishing reports have come in from Grosse Pt. Shores, the Mile Roads, Selfridge, and the north part of the Lake. That gives everyone plenty of options to go to.
We were able to do okay last Saturday on April 21st when our sunny, 50-degree day turned against us. The highest water temperature that we found was 46 degrees, while the rest of the Lake we checked was at 42.5 degrees, with one exception at 44.5 degrees. Expect that to be higher this weekend all over this body of water.
After we worked through a number of low percentage spots in the north part of the Lake, we connected in the warmest water that we found that day. With smallmouth bass caught from 4lbs 2oz or less, we enjoyed some easy fishing with crankbaits, swimbaits, and blade baits. The best bass over Friday and Saturday trips that we saw was a 4lb 9oz smallmouth caught by Eric Krpichak on a 4″ Canadian Mist, Xtreme Bass Tackle tube.
The migration to shore is new. We checked out high percentage spots from Metro Beach, all the way up to Fair Haven and struck out. If it was just about catching, we could have followed up on a hot tip from Sportsmen's Direct and fished deeper, staging bass on the Mile Roads. In our case, we were trying to learn about bass positioning during this colder water period, then we went and hooked up.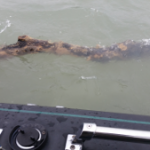 There are a couple of early season realities to consider. One is to watch out for floating debris. It's always a factor in the spring, but after a heavy rain or high winds, you can expect an increase in the danger. There is usually more debris concentrated around river and creek inflows, but all of it eventually makes it's way out into the main lake. One of the craziest things that I saw one year was an entire wood door, floating out in front of the Clinton River.
Another consideration is that the visible, emergent vegetation around the Lake has yet to start greening up, and growing. A lot of spots may not look like you remembered them from last season. The potential to run aground when navigating off of visual clues is high.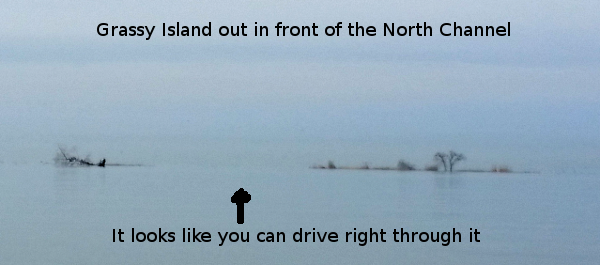 So I hope that you enjoy our fishing report from Saturday, April 21st. Even though it is only 6 days out, the rapidly changing conditions makes it a little dated, but it still has great bass fishing information. Marked Map owners: Look for Marked Map references for spots that we fished while making this video.
UPDATE 4/28/2018
I caught up with a couple of guys getting off of the water at Harley Ensign. In spite of the wind, and the cold, they managed to boat 80 bass. The bite is on!
NEW REPORT: "I'm half way through my LSC trip this year and it's been epic to say the least… I had 27lb 12oz for my best 5 smallies yesterday!My buddy and I had a 100+ fish day yesterday and Thursday. We were tossing back 3lb – 4lb like they were trash fish! I've caught two 6lb+ so far! Got 4 days left, hopefully I can run into a 7lb+!"In the last 5 days I've caught 17 smallies between 5lb – 6lb 2oz!!!
April 2018 Trip Pics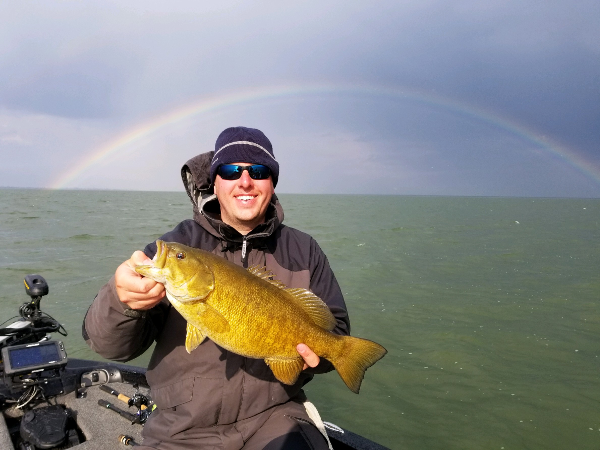 Category: Bass Lake/River Reports, Feature