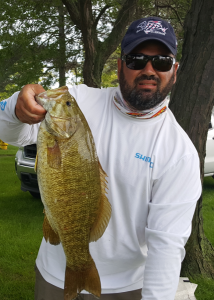 Wow, the top weight stays super high on Lake St. Clair CFB tournaments. On this particular Sunday, the team of Gillies/Schwark turned in a top weight of 24.07lbs, with a big bass at 5.15lbs. This tops the weight from the last Sunday CFB of 23.09lbs.
TOP 5 RESULTS
1 Gillies/Schwark      5.15 24.07
2 Robiadek/Clauser 5.04 19.02
3 Witt/Linder                      18.14
4 Stein/Stein                        18.09
5 Mainstone/Mainstone    16.10
2nd Big Bass Conn 5.11
Traditionally, tournament weights continue to climb as we get closer, then into fall. Several years ago five bass taken out of Lake St. Clair made it up to the 30 pound limit.
For many anglers, the bite has been tough. That is reflected in the weights down the list from first place. In many cases, the bass being caught this year are being caught in non-traditional locations.
CLICK HERE TO GO TO THE CASH FOR BASS WEBSITE

Category: Feature, Tournaments