Oh for the weather of March when the days were warm, and the winds were favorable!
Now that we are up against the start of the spawn, the weather has in practical terms, turned against us. We can still hook up with some nice smallies though. In order to do that we have to brace ourselves against north or easterly winds and cold rain. It does tend to slow the bite down.
The good news is that there is no way to turn back fully the biological clock. If the bass aren't spawning, they are staging in preparation to spawn, and that makes them predictable.
The other factor working in our favor is the weather trend itself. Even though it is running against us for comfort, the fact that it is consistent makes it a stable pattern. Stable patterns are always good for the bite and comes with a built-in reliability factor. If a presentation works one day, it should work the next.
Take the following trend line in the graphic below. It shows the normal progression between fronts. During and after a cold front the bite slows down, but as you get farther away from the event, the bite picks up. The bite hits a high point just before the next front comes through. We call this condition, pre-frontal.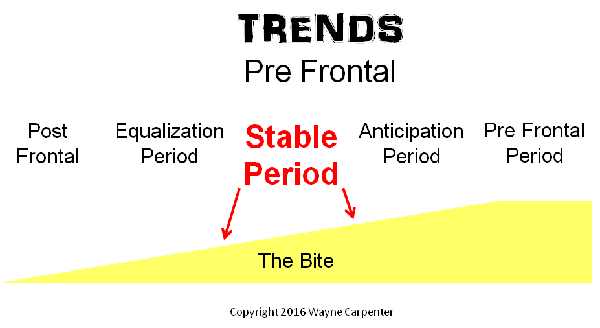 The period we are in right now is in-between fronts. They are not optimal conditions but if you understand the trend, you can sort out the bite and the location of the bass that you are looking for.
Category: Bass Fishing Articles, Feature