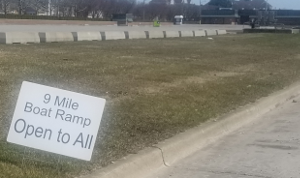 One day before spaghetti day the 9 Mile boat ramp opens up for us. The timing couldn't be better. A mild March has ushered in a strong bite on the Mile Roads and anglers have already been taking advantage of it.
Early bass fishing has become the norm since the change in Michigan law concerning "catch and release." Expect a lot of boat and fishing action on the water from here on out.
Here is the forecast for this week:

The most comfortable winds come from the west but for this quality of fishing, these will have to do.
See you on the water!