We just got our first report of mayflies on the water on June 1, 2018! Every year we can depend on hatches of mayflies that last about a month and a half. So far, we have not seen any on shore, but that is about to change.
These insects are a major food source for smallmouth bass. At times, they gorge on them so much they take on the appearance of a pre-spawn female with eggs. After you hook them and bring them to the boat, you can usually see them throwing up pieces of mayflies.
There is a sequence to the size and color of mayfly that emerges. The first is small, and black. Next comes larger black mayflies then finally, the one that the bass like the best…a golden mayfly with chartreuse highlight on the wings. Subsequent hatches revert back to the blackish color and differences in the size.
The hatches with the premium colored mayflies lasts for a couple of weeks or more. The overall hatch, and separate hatches seem to be weather dependent. Warmer weather tends to bring on massive hatches that coat sidewalks, roads and buildings on shore with live mayflies. Hatches also happen in different parts of the Lake at different times.
There is a Mayfly™ tube bait that has been designed to mimic as many natural mayfly tones as possible. Using Natural Forage Technology, Xtreme Bass Tackle has created a bait that matches the hatch. Now is the time to be getting it out on the water.
This tube bait has proven itself to be a producer since 2010. Anglers who have come to rely on it have a lot to say about how, and when they use it. The design is made to be thrown with the shiny side up (or wings up, as we call it). A majority of die-hard Mayfly™ tube anglers find it most effective when fished "wings down."
There are three sizes available, drop-shot tube, 4″ tube, and 5″ tube. Since mayflies emerge from the bottom on their way to the surface, the drop-shot tube is ideal to reach that bass bite. The 4″ and 5″ version are perfect for target casting to smallmouth feeding on mayflies at the surface.
Most anglers are frustrated during the hatch period. They complain of not being able to hook up with all the smallmouth they see active on the surface and swimming around. You can increase the chances you will get on a mayfly bite, if you do a couple of things.
Sight fish a mayfly slick
These slicks are easy to find on the Lake. Topwater presentations are a popular choice when trying to get bass to come up and feed. Another way is to "wait out" the bass, and cast to them when they surface on the slick. You can cast to them and get a reaction strike. This method is slow and methodical, but it usually gets you on some of the biggest bass you will catch during the season.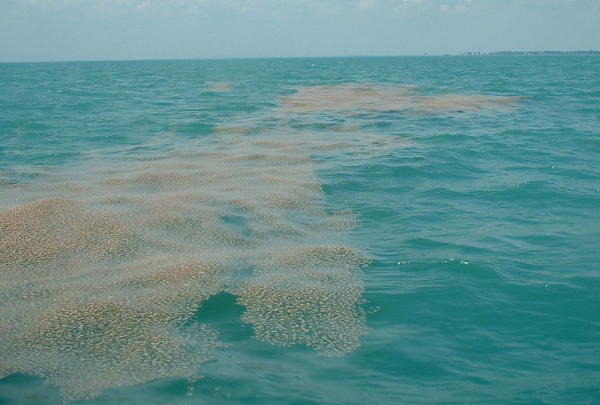 Fish a windblown shoreline
As slicks develop, the winds push them around the Lake. You can get on a lot of bass if you find a hatch that has happened in an area, and the winds have been blowing on-shore. Large numbers of bass will follow the floating slick to shore where they become more susceptible to standard bass fishing techniques.
The way to "match the hatch" with dominant, and highlight bait colors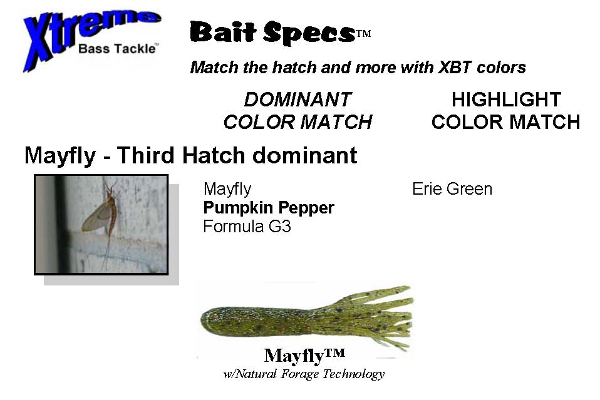 Xtreme Bass Tackle™ Mayfly™ Tube Specs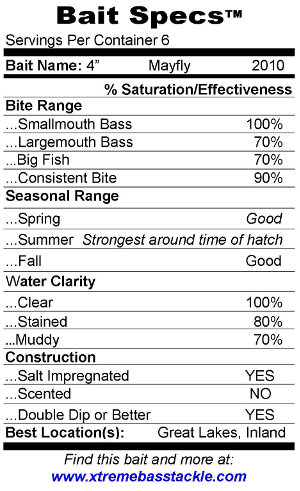 Find Mayfly tubes at:
Online: Xtreme Bass Tackle
Local:
Metro Parkway & Jefferson
Nautical Baits/Mobile Pit Stop
9 Mile and Jefferson
Category: Bass Lake/River Reports, Feature