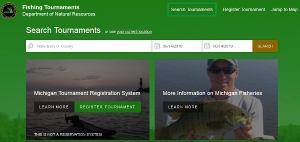 Thanks to the Michigan DNR tournament registration system we have a clear picture of what to expect in tournaments launching this weekend. There is information inside of this website that will show you a launch-by-launch description of registered tournaments for the year; Lake St. Clair Metropark included. Fishing pressure will take on an entirely new definition on Saturday and Sunday, as anglers vie for spots.
Tournaments will be launching from:
Clinton River Cutoff   1 – (est. # of boats 15)
Harley Ensign  3 – (est. # of boats 70)
Selfridge   1 – (est. # of boats 10)
North Channel (Algonac)   2 – (est. # of boats 30)
The overall number of boats may not seem overwhelming, but these are competitive anglers who focus on major hot spots. Included in the mix will be scores of bass anglers excited to be participating in this once-a-year event.
What we will not see is anglers from the upcoming FLW professional tournament. They are in an official "off limits" period before their event.
It looks like the weather is going to be on the side of the anglers this weekend:
Marine Forecast NWS 6/15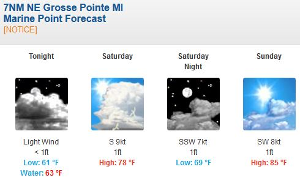 Tonight
Variable winds 5 kt or less. Mostly cloudy. Waves 1 ft or less.
Saturday
S wind around 9 kt. A chance of showers and thunderstorms before 2pm. Waves around 1 ft.
Saturday Night
SSW wind around 7 kt. Partly cloudy. Waves around 1 ft.
Sunday
SW wind around 8 kt. Mostly sunny. Waves around 1 ft.
This type of stability will help the bite. At the same time, the rising temperatures will push us deeper into the post-spawn period. In many respects, this will be a typical opening day. The spawn is playing out and the bite should be temporarily slowing down.
There are some big bass to be found though. Deeper can be better in many cases. Don't forget that there will be a random number of roaming, post-spawn females available. They are hard to target, but if you grind it out in spawning related water, you should pick up one an hour.
It will be great to see what the weight spread the tournaments will bring in. Somebody always finds the mother lode and brings back St. Clair's best. Expect to see a lot of limits and some very sizeable "big bass" brought to the scales. We'll check that out and report back to you next week with an analysis of the Lake St. Clair U.S. bass opener 2018.
Category: Bass Fishing Articles, Feature, Tournaments