Opening day bass fishing results fluctuate with seasonal temperatures. There is no way to know how they will be next year, but this year we took a stab at guessing what the best catch over last weekend would be: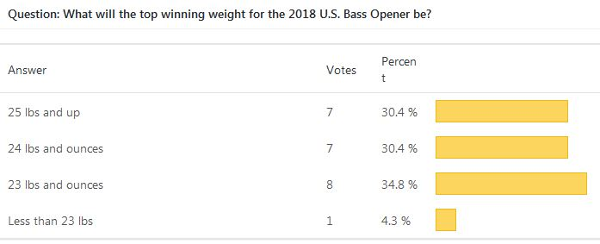 As it turns out, we were able to find some results from events, plus had a couple of clubs check in. Thank you Michigan Bass Anglers and Michiana Casting Couples for giving us a look at what weights were available on Lake St. Clair on opening day.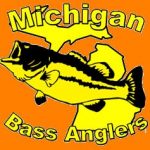 First off, we have a report from Michigan Bass Anglers. Their event was on Sunday, launched at Harley at 6:00am, and went to 3:00pm. They were scheduled to launch 10 boats at their club event. Here is the report from the President, Paul Wagner:
"Our club winning weight was 18.98 pounds, , Chaz Poindexter and Bam Beydoun won it, Bam also had big fish with a 4.57 smallmouth."
We got a terrific report from Michiana Casting Couples. They launched at the Clinton River Cutoff boat access and were projected to have 15 boats.
1st pl. Rick Kedik & Jake Lisenko from won with 20.23lbs taking home $290, they used Native pride baits new tube jig Trokar hooks rigged with tubes in 10-13′ deep water, keying in on sparse weeds…not thick weeds.  Kedik & Lisenko had bigbass of the day with a 4.83lb Smallmouth caught in the last 20min of the tourney to earn an extra $90.
2nd pl. Bill Cisler & Steve Penington had 16.45lbs earning $170. they used lipless crank baits and tubes in 7-10′.  Cisler & Penington had 2nd bigbass of the day with a 4.60lb Smallmouth winning $45.
3rd pl Rodney & Craig Fannin brought in 16.33lbs, that earned them $80.  Fannin's used tubes in 8-10′ deep water.
4th pl. Scott & LeeAnn Sizemore had the last 16lb sack to round out the top four teams (16.05lbs).  Sizemore's won the new Skeet Reese Rod.
Every team brought in a limit of 5 bass, 10 teams in all.
A brand new Skeet Reese rod was given away also.  Almost every Casting Couples event gives away a new rod, reel, or rod & reel combo.
We were also able to grab some results from the
Cash for Bass
event from Saturday, launched from Harley Ensign: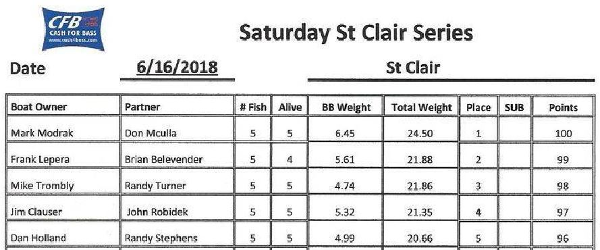 So it's on to our next bass opener on Lake St. Clair…the Canadian Opener on the fourth Saturday in June.
or
Category: Bass Fishing Articles, Feature, Tournaments