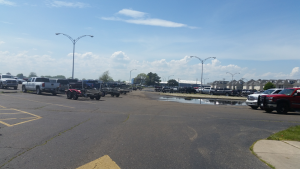 It's perfectly understandable when planning a trip to Lake St. Clair to make sure in advance that lake access is good to go. I've received many calls about the lock down of Michigan over the virus. Conflicting policies from the State level have created an atmosphere of confusion, at best. To date, we have seen no reports of anglers from out-of-state being stopped, and placed into quarantine…none. At the launch and on the water, things appear to be business as usual.
Recent Headlines
Governor prohibits motorized boats – Executive Order 2020-42 in effect until April 30 at 11:59 p.m. – MyFenton.com April 17th
Gov hits reverse: No motorized boats allowed under stay-home order – Detroit News April 10th
The relief…
Michigan lifts boating ban – The Blade, Toledo April 25th
How it happened…
Then there is the appearance of flooding…
Stories of record high water levels sensationalize the potential for flooding routes  you may be interested in. As of this writing, the major launches primarily used by local, out state, and out-of-state anglers alike are fine.
FOR MORE YOU CAN READ ARTICLE ON THE MAJOR LAUNCHES THIS MAY
The one exception is the Clinton River Cutoff Launch on Jefferson at Ballard road. As of this writing this launch was closed for the annual dredging that takes place to clear debris. This is an extremely popular launch, but the other nearby DNR launches have been no where near capacity during this time.
Back to Harley Ensign…
There has been chatter about flooding at the Harley Ensign launch. While entirely true, it doesn't seem to be from the Lake. We had heavy east winds that raised the Lake level on the US shore that may have contributed to the water over the road, and in the lot. More likely, these are low lying spots that were filled with the heavy rains that came through the Detroit area. Here is what the launch, and the entrance to the launch looked like on May 25, 2020.
What water was there is quite manageable. The puddles were drying up and probably only a couple of inches deep, at the most. I'll put forward an idea that is a complete guess, but the high water levels in the Lake are probably saturating the ground in the peninsula. This may be slowing down the normal runoff of water from the storms.
If you were there days earlier, you would have seen this: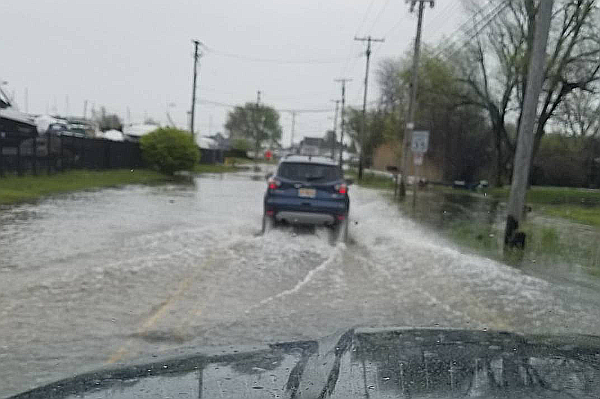 Not fun, but still manageable…
One reason for writing this piece is to clarify (especially when you can see with your own eyes) the actual conditions so that you can plan your trip. Last year,  articles piled up with negative coverage and photos of specific, minor launches that were flooded. The result was that many out-of-state anglers who come up each year, decided to stay home. The impact on their enjoyment of the resource was curtailed, and the local fishing economy suffered.
Every one of these articles from 2019 appear to be well written, and factual. At times they even mention that there is an added benefit to anglers in the mix, with good fishing opportunities. The cumulative effect of the headlines and photos on the customers that I talked with, was chilling. In some cases, even my expertise wasn't enough of a push back to encourage them to make the trip.
High Great Lakes water levels cause havoc across Michigan – mlive.com
Great Lakes, Lake St. Clair expected to continue breaking water level records – Detroit News
Photo caption: Gary Morris of River Rouge gets his boat to the boat launch which is partially underwater at Elizabeth Park in Trenton, Monday Editor's note: This is a major launch

Lake levels nearing historic highs, flooding concerns rise around Lake St. Clair – C&G News
Rising water poses electrocution threat on Lake St. Clair – WDIV
So here we go again. Yes, there are launches that throw extra wood out to help you get to the dock, but we are launching, fishing and enjoying this great fishing resource: Lake St. Clair – One of the worlds premier smallmouth bass fishing hotspots.
FIND XTREME BASS TACKLE PRODUCTS, RESEARCHED AND DESIGNED FOR SMALLMOUTH FISHING ON LAKE ST CLAIR AT THE FOLLOWING STORES
Category: Bass Fishing Articles, Bass Reports, Fishing, Launches, Local, Water Levels