The status of the water levels on Lake St. Clair can have a significant impact on the quality of the bass fishing. The fact that we will be experiencing a third straight season of relatively high water levels figures right into a big water strategy to locate smallmouth bass.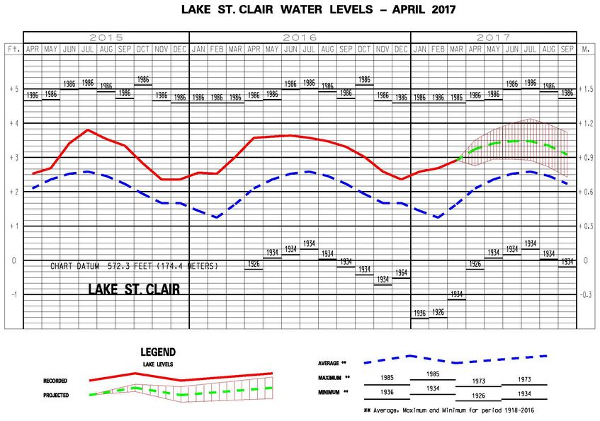 The last two seasons we have seen water levels higher than those in 2014. Those rising levels tend to destabilize established fishing patterns. Not to say that stable patterns weren't available, it's just that patterns that have been with us for decades, began to break down.
Last year, stable fishing patterns were found mostly on the South Shore, through the Detroit River and into Lake Erie (areas related to the flow of the Detroit River).
We are entering a season of stability in the water levels. As you can see in the graph below, we are on track to be near, or slightly below the levels from 2016. This is part of a slight downward trend since reaching peak levels recently in 2015
There was a trend of higher actual levels over forecast levels in the monthly forecast last year, in 2016. That trend continued through June. This year, you can watch this yourself by pulling up the US Army Corps of Engineers forecast published around the 6th of each month.
This season, the projections are showing a scaled back version of the 2016 track. The forecast shows rising water levels, but the increases are incremental.
If you have been logging catch information for the last two seasons, this year could be the payoff for you. To piece together the smallmouth location puzzle, look to combine information about dead areas with areas where you found bass. It only takes a couple of new hot spots to make it a terrific season.
Category: Feature, Water Levels