The long awaited break from cold temperatures has arrived. The bass, who have been staging for weeks will now start a big move toward shore, closer to their spawning zones. Even though a relative cold front will be coming in by Friday, we will be past the tipping point for the spawn and we should see the best weekend bass fishing of the season.

There is no way to predict the duration of the upcoming periods of spawn, post-spawn and summer but the following graph does give us an idea of where we are at today.
You can see the projected bite activity rise fast on the graph. That rise would coincide directly with an increase in air temperatures driving an increase in the water temperature. The key is the trend. Right now, the trend is for warmer days and nights. Night time temperatures can have a huge impact on driving the trend.
We do have an experimental temperature being given by the Grosse Pointe station of 52 degrees.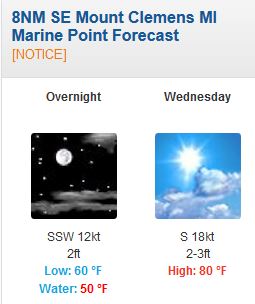 This is one of two published water temperatures that we have to work with. The second is a Mount Clemens station published water temperature of 50 degrees. Neither of these will match what we will see on the water, but they can reveal a trend. These temps are from May 16th so check over the next few days for the trend. The surface temperatures we will see on our boat graphs should show much warmer.
One other thing we have going for us are high winds through the warm period. This will mix the warm surface water in nicely.
You can be pretty sure the entire U.S. shoreline will be active along with likely spawning activity in the shallow, north bays. This is good new for those who want to avoid the crowds.
Category: Bass Fishing Articles, Bass Reports, Feature