The final round of No Secrets on Lake St. Clair seminars are coming to the Ultimate Sport and Fishing Show on March 17th – 20th. Capt. Wayne Carpenter is bringing the latest information on how to tackle big water smallmouth on Lake St. Clair.
Trends, trends, trends! We can learn a single technique or spot but how about being where most of the smallmouth are in the Lake? Being in the right place at the right time can make all the difference between a good day, and a great day! Here are some examples that we all know:
It's sunrise, the light levels are low so what bait do we throw? Answer: Topwater
It's the spawn and the bass are settled down on the bottom in predictable spots. Where do we go? Answer: Where the rest of the boats are.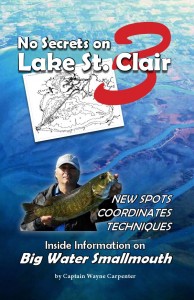 How about finding smallmouth during the mayfly hatch? Are you sure what trends put you on fish during the summer months? Get this information and more by attending this FREE seminar at the Grand Rapids show.
The information in the seminar is based on the books series, No Secret on Lake St. Clair volumes 1,2 & 3.
No Secrets Seminar Schedule
Thursday, March 17
04:00 pm – 05:00 pm Hawg Trough
Friday, March 18
02:00 pm – 03:00 pm Lake Ultimate
05:00 pm – 06:00 pm Hawg Trough
Saturday, March 19
12:00 pm – 01:00 pm Hawg Trough
Ultimate Bass Clinic
03:00 pm – 05:00 pm Stage D
Sunday, March 20
01:00 pm – 02:00 pm Hawg Trough
CLICK HERE FOR MORE ON NO SECRETS SEMINARS 2016
CLICK HERE FOR ULTIMATE SPORTS SHOW SEMINAR SCHEDULE