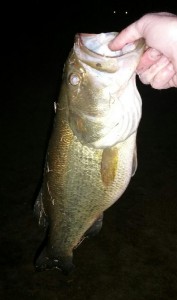 For the last couple of weeks there have been random reports rolling in about a bass caught here or there. One came in from the Detroit River, some from the west side of the State and others from inland waters. So far few have been forthcoming about their secret hot spots but one thing is for sure: there is a bite out there to be had.
The northern part of all lakes will heat up first and be your best bet for either boat or shore fishing.
A special thanks goes out to Jeff Ferraiuolo for the one photo that we have so far.
CLICK HERE TO GO TO JEFF'S FACEBOOK PAGE
Do you want to know more about what's happening with fishing around Michigan?
CLICK HERE TO GO TO THE DNR FISHING REPORT
03/11/2106 Report from St. Clair Shores: Landed two bass and lost two. Formula G3 working. Can see 3 boats from shore at 10 Mile.
Category: Bass Lake/River Reports, Feature