Catch rates and size during the spring (pre-spawn) period usually reveal a variety of quality bass and can be impressive. It is likely that some of the largest bass you catch all season will be during this period. It is also likely that you will run into both largemouth bass and smallmouth bass in similar areas. The sheer number of bass caught in a single day can easily reach 100 as well. The question is: Does this translate into an indicator that we are going to have a better season than last year?
In a big way, bass rove in random schools in the spring. The nature of these schools is that the size tends to remain constant within the school. In other words, you will most likely be catching "cookie cutter" sized fish. It is possible, but not likely that you will be able to upgrade to larger bass out of a school of keeper sized bass. In the same way, if you get into a school of four pounders then it is most likely that you will not see smaller bass taken from that school either.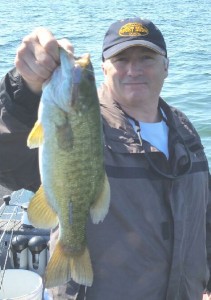 If there ever was a period where the quality of bass that you encounter come at random intervals, this is it! The best thing you can do to upgrade into a better quality bass than the one that you are catching is to simply change location.
Fast forward into the spawn, post-spawn and summer periods and the relationship between what you caught in the spring and what you will catch later becomes even more unlikely. Bass of predictable size exhibit specific behaviors during those periods, especially those that are related to location. Areas and spots gain a reputation for being "big fish" or "small fish" spots.
If there is a "take away" from spring bass fishing, it would be to be able to gauge the strength of each "year class." The "year class" refers to the year that the bass were spawned. A strong "year class" would mean that the spawn was good for bass that year. A poor "year class" means that the spawn rate was low and fewer bass were produced. Bass grow at a predictable rate so you can easily see the relative strength of the "year class" by the number and size of bass that you catch.
(c) 2016 Wayne Carpenter
Category: Bass Fishing Articles, Feature