There are several game-changing events that impact bass fishing on Lake St Clair, and the beginning of the mayfly hatch is one of them. This major food source for bass emerges from the bottom of the Lake, and the nymph makes it way to the surface. We have a report of bass eating the emerging hatch as early as Wednesday, May 25th.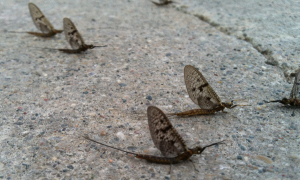 The first report of what we would consider the mayfly hatch (or the point at which we can detect it) began this year on May 29th (or perhaps the night before). One of the first indicators you might see is when you gas up in the morning. The gas station lights will have attracted what seems like every mayfly in the area. They swarm the lights, cover walls and windows and crunch under every step you take.
Conventional wisdom says that the bass are full of mayflies and don't bite during this period. Luckily for us, bass have their own agenda and after a busy spawning period are ready to eat, period. That is not to say that their habits don't change though. It is likely that the baits that you were using during the spawn will not be as effective as they were. A change of presentation or strategy is in order.
Catching large numbers of small bass (males) is a sure sign that it is time to make that change. During this period, it is very unlikely that you can work that same pattern hard enough or long enough to "luck" into a bigger bite.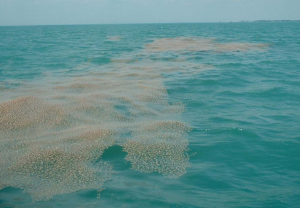 Savvy Lake St. Clair bass anglers know to chase the slicks and take advantage of the opportunities that come with being in proximity to this massive food source. The best chance for success comes when a mayfly slick connects with a significant piece of structure or cover.
FISHING THE XTREME BASS TACKLE MAYFLY TUBE
The most magic moment of all comes when the winds die completely during a mayfly hatch. You will see bass feeding all around the boat, breaking the surface of the water as they take one nymph after another. That nearly always happens on days when it is hot, and other insect species are hatching too. The conditions for the angler are nearly unbearable as you cook from the sun, and bugs converge on your personal space. For anglers who live for the best bass fishing opportunities on Lake St. Clair, it's worth every minute.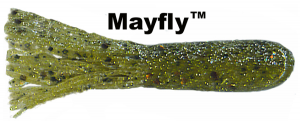 CLICK HERE TO ORDER THE MAYFLY TUBE FROM XTREME BASS TACKLE
Category: Bass Lake/River Reports, Feature