The Xtreme Bass Tackle crew, baits, seminars and booth enjoyed great success this weekend. Aside from selling a lot of the western side of Michigan favorite, Brown Craw the seminars were well attended and our staff worked directly with hundreds of customers looking to improve their fishing in 2016!
HOT BAITS
 HOT TOPICS AT SEMINARS
We talked about fishing efficiency during each "Hawg Trough" demonstration. It started out with burning three colors of swim baits to see how the bass would react. Then "yo-yo" the third color to see the reaction. Next the drop-shot went under the surface to tease the bass with an Xtreme Alewife drop-shot tube. Next, a Brown Craw tube went down on the bottom to see if the bass would trap this crayfish imitator on the bottom then pick it up. As a finale, I threw my trademark drop-shot tube on a bobber to show how pressured bass can't resist a tube suspended right in front of them.
ULTIMATE BASS CLINIC
No doubt our best clinic ever! This two hour seminar got deep into the weeds on bass fishing specifics like location, trends, techniques, lures, how to find bass, why the bass bite certain baits and more. We did six information packed segments then sat down for a Q&A panel at the end where attendees would hit us with any questions they had about bass fishing. Each attendee walked away with a tackle bag worth at least $25 or more.
SURPRISE ANNOUNCEMENT DURING SHOW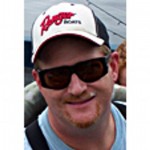 It came out on the Bassmaster website that Dan Kimmel (www.greatlakesbass.com) was named Conservation Director of the Year! This highest of conservation honors came as a result of Dan working tirelessly for the future of bass angling in Michigan. Due to his efforts we now have catch-and-release bass fishing year-round. Also, the rule against culling bass in tournaments has now been changed to make it legal to continue fishing in order to upgrade your limit of five bass. At a private competitive fishing event at the show Showspan awarded Dan an award acknowledging this high honor as well.
TIME TO GO FISHING
Reports about new catch-and-release season bass have been coming in from all over the State so it looks like it's time to hit the water. Have fun, be safe and stay tuned to St. Clair Report for the latest news and information about Lake St. Clair!
Category: Events, Feature, Uncategorized