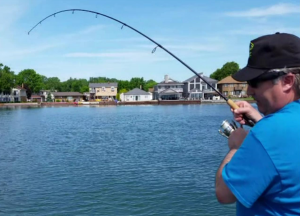 Up until now you could go out on Lake St. Clair and put up big numbers by fishing for smallmouth in tight areas, or by patterns: All that is changing. For a period, the bass will no longer hold to the shallows or a narrow range of depth.
At this point, the smallmouth disperse into a wide depth range. The spawn held them to a depth of 3 to 8 feet deep in most areas, but now they will be ranging from 3 to 14 feet deep, maybe more. That makes it much more difficult to locate tight groups of bass, and we are relegated to picking up quality bass with less frequency. Yes, the fishing becomes more of a challenge, but it's the mental adjustment that is the hardest. Going from catching 50 or more bass a day with patterns, most of them quality, to catching one quality bass an hour with no definable pattern can take its' toll. Knowing that this is the pattern helps a little.
There are a few structure/cover combinations that collect post-spawn smallmouth, if you can find them. Most of them involve cabbage weed as a source of cover combined with a dominant barrier element like a hard break, or isolated structure.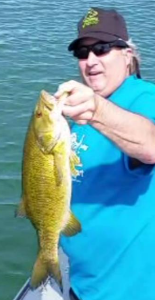 If there is an effective pattern for the post-spawn, it is to keep moving. Whether casting or drifting and dragging, staying on the move will give you the best chance to come across these roaming bass. It is likely that you will catch a lot of male smallmouth in-between, hooking up with a healthy female now and then. For awhile, think "area" instead of "spots" and your overall catch should improve.
Bait color will start to become more of a factor. To find out what works best, rotate through your colors as soon as you start fishing. In Xtreme Bass Tackle colors I would recommend rigging them in this order: Sweet Green™, Canadian Mist, St. Clair Goby NFT™, St. Clair Crayfish™ and Great Lakes Craw™. You will find that one or two of those baits will catch more bass than the others.
This is definitely a period where presentation rules. A tube on the bottom will be better than a drop-shot, or vice versa. The same goes for swimbaits, jerkbaits, crank baits and spinbaits. Early on, take the time to go through each presentation and figure the bite out. It can make the difference between a good day, or a great day on Lake St. Clair!