The rapid rise in Lake St. Clair water levels may have hit their limit this season. An expected seasonal bump should still take place through June and possibly July, but U.S. Corps of Engineers projections have been adjusted significantly downward. It looks like we will have nearly identical water levels to the ones that we had last season.
There was a remarkable spike in the water levels and projections noted in the U.S. Corps of Engineer reports since January. There was a real possibility that we were going to see higher levels of the type not seen for some time. That is still possible, but the projections paint a different picture. The near flat-line of the levels shown in the month of May is the best indicator of this is.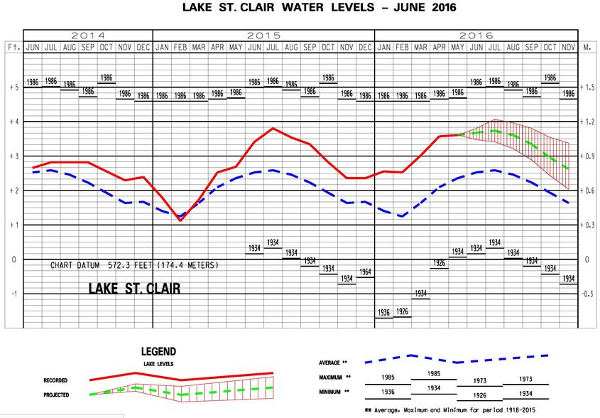 We are still looking at the highest levels seen in years. This is a boon for navigation, the expansion of spawning areas for a variety of species and increased fishing opportunities for anglers. The higher water makes spots available that have not been under water for some time.
CLICK HERE TO SEE THE WATER LEVELS REPORT FOR ALL OF THE GREAT LAKES
Category: Feature, Water Levels