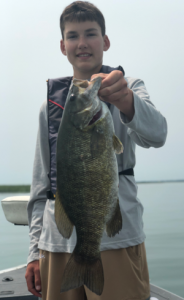 When most people think of early summer bass fishing they think of mayflies. Some anglers think that the bite is affected so drastically by these tiny insects they abandon smallmouth bass fishing during this period altogether.
It is important to keep in mind that the mayfly hatch is not the only major event happening on the lake right now. The bass migration is right around the corner and in some cases, it is already taking place.
The migration is an annual event where the bass begin to move toward the channel mouths and many will end up in the river system well into fall.
The smallmouth are attracted to the cooler water that is being pushed down from Lake Huron, but typically they will not find the river suitable until water temperature nears the 65-degree mark.
Transition spots have a direct correlation to the migration, but there are many different types of transition spots. Some of the most obvious are sea wall corners and points. However, the way current effects any given spot is essential to determine how the smallmouth will position on the spot and the productivity. Ultimately something all transition spots have in common is they act as stopping off points for "Transitioning" smallmouth. Keep in mind that this period only last a short time.
The migration is a major factor for success and is just as important to take into account as the mayflies when trying to dial in smallmouth on Lake St. Clair. Fishing transition spots that correlate with the migration can oftentimes be more reliable than mayfly patterns.
This fish was most likely preparing to move up into the river for the warm summer months ahead and was caught near an isolated weed patch on a transition spot.
Bass love perch and Xtreme Bass Tackle™ "Great Lakes Perch™" is a great imitation of the perch we have here in Lake St. Clair.
We are noticing the start of the migration now as the surface water temps in the channels are well past 65 degrees and our river spots will surely start to heat up. Don't let the mayfly hatch fully dictate how you fish this period. Instead of thinking of this period as the "Mayfly Hatch," think of it like a "Migration Period," and you might find it easier to put together a pattern.
Nate Perry is an emerging author and researcher of Lake St. Clair. I have had the opportunity to hear his analysis of this body of water, and look forward to many more articles like this one. Capt. Wayne
Category: Bass, Bass Fishing Articles, Feature