With water temps still around the low 50's in almost all of the shallow spawning bays, the bass are not locked down on beds quite yet, which means we are in the pre-spawn period.
During the pre-spawn period, the majority of bass are aimlessly cruising around on flats. With so many flats to choose from on Lake St. Clair, finding the right flat can be difficult for anglers not familiar with this period. During this time of year, it can be as simple as finding the other boats and fan casting until you connect.
While drifting around and making blind casts has proven to be effective during this period, keep an eye out for schooling spots, as they can be a much easier target in the early season. Something as simple as a point or a  seawall corner can be a successful spot this time of year.  Finding rocks or weed growth on or around any of these locations make the likelihood of success even greater.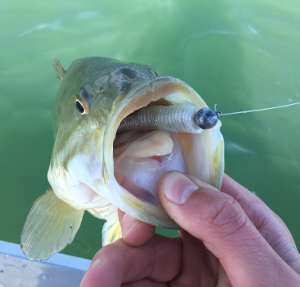 To ensure that you do not push fish off a spot,  be sure to stay back once you have located a target. Starting with a moving bait to catch the active fish first is almost always a good choice.
When the bite starts slowing down on a moving bait or the fish start to get "burned out," a  tube can be a great clean up bait to get the non-aggressive bass biting.
Indeed, the pre-spawn period can take time and effort to locate fish. However, it can turn out to be a fun and rewarding experience that can be understood through knowledge gained by time on the water.
Category: Bass, Bass Lake/River Reports, Feature