Now that higher water levels have become the norm, how does that affect us as anglers and how high will they go? What happens in Lake Superior affects everything in the Great Lakes watershed. Here is an update from the International Lake Superior Board of Control, February news release:
"More seasonable conditions returned to the Lake Superior and Lake Michigan-Huron basins in January. Nonetheless, both lakes continue to see the effects of a wet spring and summer, and water levels of Lake Superior and Lake Michigan-Huron remain well above average as a result."
In fact, the same report says, "The monthly mean level of Lake Superior in January was 183.65 m (602.53 ft), the 2nd highest on record (1918 – present) and the highest since January 1986."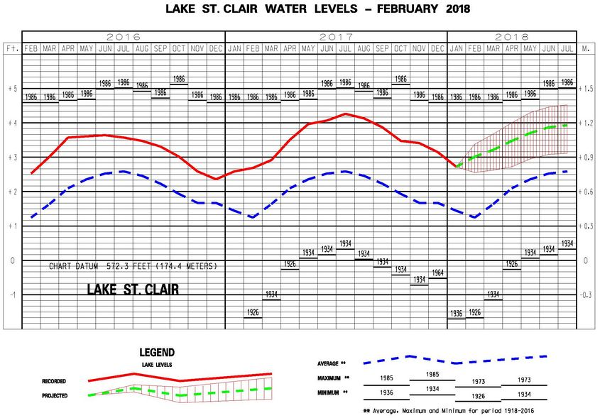 At first glance, it appears that we could be on our way to record high water levels. This is still possible, but part of the puzzle is how Lake Superior levels are controlled. From the same report:
"In consideration of the continuing high water levels in the upper Great Lakes, the International Lake Superior Board of Control, under authority granted to it by the International Joint Commission (IJC), will continue to release outflows of up to 2,510 cubic meters per second (cms) (88,640 cubic feet per second (cfs)) through the winter months. This flow is 100 cms (3,530 cfs) more than the normal winter maximum prescribed by Regulation Plan 2012."
In addition, "The net water supplies to Lake Superior were below average in January. The level of Lake Superior fell 9 cm (4 in) last month, while on average the lake declines 7 cm (3 in) in January."
So while it's possible that we could be in for historical, high water levels in 2018 there are measures underway to keep that under control. Historical or not, the higher water levels will be with us this year as we chase smallmouth bass on Lake St. Clair.
Category: Feature, Water Levels