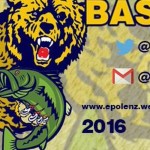 The Wyandotte High School Bass Team continues to put valuable time into preparing for their upcoming High School Championship events on the big water in June. They've attended seminars, acquired tackle, had club meetings, kept their grades up and it's now time to get out on the water and put it all to good use.
The team members are: Zach Tolbert, Joe Deichelbohrer, Marcus Lesko, Nick Biundo, Vinnie Puleo, and Carl Piasecki
On this last day of April they got out for some practice and though it was a slow day for most anglers along the Mile Roads, they found some success. They had to work through several presentations before finally settling on the drop-shot to get their fish.
Success can also be gauged in other ways for them. Time on the water is critical for all anglers and even more so when fishing such a high profile event like the High School Championship. Other skills to work on are landing fish, netting them, working the trolling motor and using the electronics.
We wish them the best as they continue to work on a winning strategy for both the B.A.S.S. and FLW events.
Go Wynadotte High School Bass Team!