You may refer to it the Ballard ramp, the Crocker ramp, the Cutoff ramp or something else. No matter what you call it, the DNR Parks division is calling it quits on opening the existing boating access point through peak season.
Members of the Lake Erie St. Clair Citizens Fishery Advisory Committee were told that the DNR Cutoff ramp will not open until November of 2022.
Since its initial construction, this boating access site has had a perennial problem with a winter buildup of silt. The silt is packed into the launch and has to be dredged out before the ramp can be used. For those of us who use the ramp, this is not news. We wait, and wait each year until the dredging is complete, so we can launch.
So why not this year?
Ideas have surfaced on how to combat the silt, but the DNR Parks Division sees building new ramps off to the side in the canal as the complete solution. This project is scheduled to begin in April and run through October.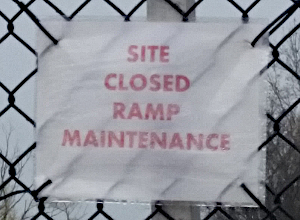 What isn't fully understood is how we got to the point where the ramp will not be functional during peak season. The original plan, as relayed to the Lake Erie St. Clair Citizens Fishery Advisory Committee, was to keep the existing ramp open while the new ramps are under construction. This is still a position that the LESCCFA Committee vigorously supports.
TBF Conservation Director Dan Kimmel said, "Public access is still too limited for Lake St. Clair. Having some parking and launching available at the super-popular Clinton River Cutoff (CRCO) ramp is worth every dollar it costs to get a dredge in there in April, May at the latest."
It is said that the DNR Parks Division cannot get a dredging contractor for the work until July. There has been no explanation given as to why this is the case. Every year this ramp is silted in: there are no surprises here. Parks has not said why they abandoned that part of the plan for the season.