It's April 17, 2017, and I am finally getting out on Lake St. Clair to check the bite out. Last year, there was some awesome bass fishing in March, but the weather was awesome too. This season, it has been "hit and miss," with some days better than others.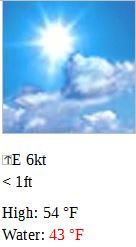 MARINE FORECAST for Monday, April 17th
Synopsis: HIGH PRESSURE…30.20 INCHES…WILL INFLUENCE THE GREAT
LAKES REGION THROUGHOUT MONDAY. HIGHER PRESSURE WILL HOLD IN PLACE
THROUGH MOST OF TUESDAY…BEFORE LOW PRESSURE…29.70
INCHES…TRAVELS FROM THE NORTH CENTRAL PLAINS INTO LAKE SUPERIOR BY
TUESDAY NIGHT. A SECOND LOW PRESSURE SYSTEM…29.50 INCHES…IS THEN
EXPECTED TO PUSH FROM THE CENTRAL PLAINS INTO LOWER MICHIGAN
WEDNESDAY INTO THURSDAY…BRINGING THE CHANCE FOR BOTH RAIN AND
THUNDERSTORMS.
Today
Variable winds less than 5 kt becoming E around 6 kt in the afternoon. Mostly sunny. Waves 1 ft or less.
(Note: The water temperature embedded in the Marine Forecast is considered to be experimental. I checked with various temps around our area and couldn't find one that matched the 43 degree temp they used. Belle Isle was the most likely place to look and they are at 48. We will have to learn more about this.)
The weather couldn't have been better. A hard northerly blow from the night before had subsided and left a gentle breeze from the south. The water was stained where you couldn't see the bottom in even four feet of water. That is ideal for this time of year. The water temp was 52 degrees.
The smallmouth bite at the Mile Roads was slow in the morning. You could see a few groups of boats hovering around flats, casting to random schools. The bass that were caught, bit on moving presentations.
Since our trip was short, I wanted to hook up something before we left. I was able to pick up a five-plus largemouth on a 4" Sweet Green tube by hitting the warming rocks near shore.
There are a lot of wind shifts going on this week. A fair amount of easterly winds will give way to a strong west wind by Friday. That will be followed by northerly winds on the weekend.
The water temperature trend doesn't look good. With steady to falling air temperatures, we will probably be stuck with water temps where we are at now, through the weekend.
Category: Bass Reports, Feature