The much-anticipated end of the post-spawn period for bass this year is Saturday, July 16, 2016. This conclusion comes as there was an overwhelming amount of anecdotal evidence coming in via fishing reports.
Here are some of the reports:
Walleye anglers are complaining about smallmouth at the dumping grounds
Bass are starting to show up in key spots in the St. Clair River
Bob Mann records a smallmouth over 5 pounds caught in the Lake. Have big bass reports from others.
Migrating bass are being found in transition spots between the Mile Roads and the St. Clair River channel system
Bass are becoming more color selective on baits. There has been a strong shift to Canadian Mist as a dominant color.
Anglers are starting to go to the same spot and catch bass on consecutive days
The start of the "Summer Bite" period is great news for Lake St. Clair bass anglers. Smallmouth fishermen are particularly skilled at putting together patterns to catch bass. Bass that have settled into predictable spots and respond well to select baits present the perfect opportunity for these expert anglers to locate and catch them.
Here are some things you can do to up your catch during the "Summer Bite period:"
After you fish a spot and leave, return to it later to catch bass again
In practice cover a lot of water and break the results down to target the size and numbers of bass that you are looking for
When you catch a bass over three pounds, stay with that same bait and presentation until it stops working.
Rotate through bait colors until you find the one the big fish want. Sweet Green has been dominating the bite, but other colors might come into play. Here are some of the top choices on Lake St. Clair: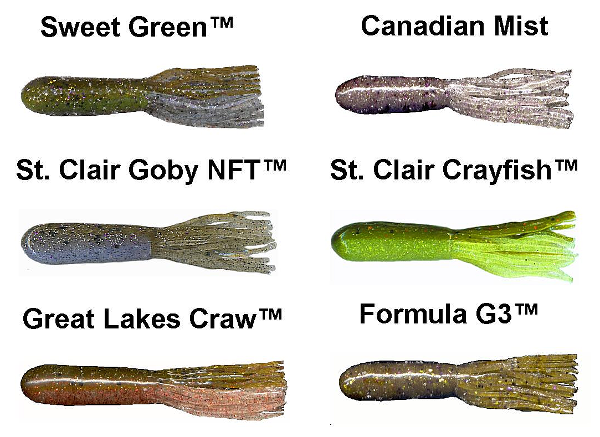 BUY ANY OF THESE COLORS AT WWW.XTREMEBASSTACKLE.COM
or BUY THEM AT A LOCAL TACKLE SHOP
Trust your skill set. Sometimes you just have to match your skills to the Lake and find the bass that like what you have to offer. This can mean covering a lot of water, but once you find them, you should be able to duplicate that success elsewhere in the Lake.
Find cover/structure elements that are producing the biggest bass and stay on those only. For instance…sometimes weed/sand combinations fish stronger than rock/sand combinations and vice versa.
Find the depth that produces the biggest bass and stick with it.
Find the presentation that produces the biggest bass and stick with it.
When you are catching small bass, do something else with your bait, presentation, retrieval speed, depth, structure/cover or location to upgrade your catch
If you are only catching one bass in the four-pound class an hour and need five for a tournament, stay on the spot/area for the duration.
The "Summer Bite" is one of the most exciting times of year for bass anglers. It is during this time that we can put all of our skills that we work so hard to obtain to full use to dial in on the bite. Once you dial in, you can almost always duplicate that success all day long by fishing the same way. Anticipating a bass on every cast is one of the best experiences you will ever have in bass fishing.
Category: Bass Lake/River Reports, Feature