Perhaps the best way to gauge the quality of the bass fishing on Lake St. Clair is to examine the results from tournaments. It takes us beyond anecdotal reports and stories, and launches us into empirical data and measurable results.
One thing is for sure…tournament results over the last five years have indicated an marked increase in the size of bass available. This fact is even acknowledged by the FLW, "St. Clair has a ton of 6-pounders in it now."
So let's take a look at some tournament results from last weekend during the Canadian Opener, 2018:
Cash for Bass, Monsterquest (Harley Ensign Launch, U.S.)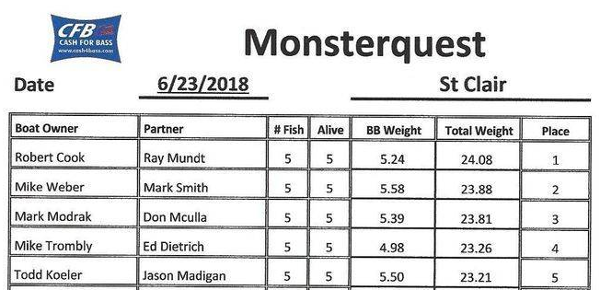 What is also remarkable about the numbers is that the top 32, out of 37  places had a limit of smallmouth. The 29th place finishers weighed-in at 15.42 which would have walked away with a win 20 years ago.
Ed Broadwood Memorial Bass Tournament (Mitchell's Bay Marine Park, Canada)
Unofficial results
Pl       Team                                 Wgt              BB
1   Vinen/Bailey                           23.46            5.24
2   Marcel/Lambercy                  23.41             5.41
3   Hodgins/Piche                        22.67            4.52
4   Gibson/Mason                        21.08            5.19
5   McLarty/King                         20.87            4.25
This tournament also sported an amazing 31 teams with full, five fish limits. That's the majority of teams who all had a shot at winning the event. Big bass went 5.41.
B.A.S.S. Nation High School Championship, July 23&24 (Selfridge DNR Launch, U.S.)
The results each day: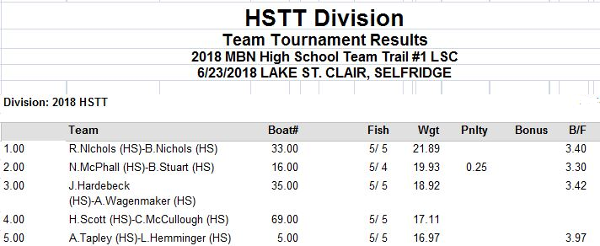 On Saturday, 39 teams brought back a limit of five bass.

Big bass was 5.65 and 52 teams came back with a 5 fish limit.
Oakland County Bass Anglers (Clinton River Cut Off DNR Launch, U.S.)

Sixteen out of 27 teams came back with a limit. Big bass was 4.56.
Sterling Heights Bass Anglers (Harley Ensign DNR Launch, U.S.)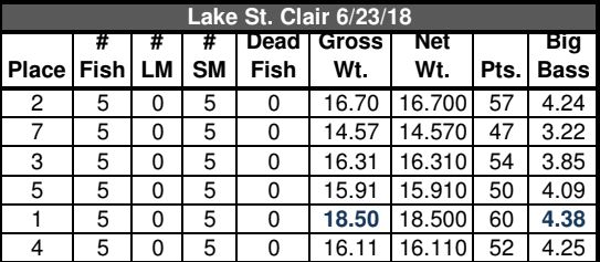 Nine teams came back with five fish limits. The big bass of the day was 4.38.
Greater Chicago Bassmasters (Selfridge DNR Launch, U.S.)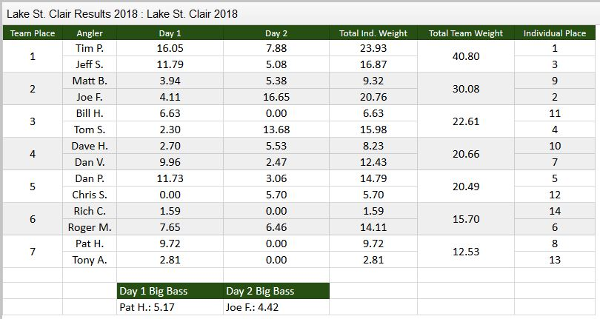 They brought in an impressive two-day total of 40.80lbs, and a one-day huge catch of 23.93lbs. Big bass for two days was 5.17.
Lake St. Clair is putting out an impressive number of smallmouth this year. One thing that is remarkable is the range of size available. As much as we love to catch big smallmouth, there has been a marked decrease in numbers of averaged sized smallmouth bass. This year we seem to be seeing a robust bump in the number of smallmouth in multiple year classes.
No recorded big bass in the 6 pound class this weekend. Look for that to change in the coming weeks.
Category: Bass Fishing Articles, Bass Lake/River Reports, Feature, Tournaments